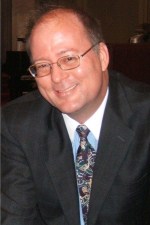 We wanted to get to know Mark Allen (NAIWE's AP Stylebook Expert) better, so last month we sat down with him. Here are some things he shared.
What is one thing that you learned about style manuals the hard way, and what benefits have you received from it?
Style manuals keep changing because language keeps changing. There was a time when I felt that I knew all the quirks of the Associated Press Stylebook, and then I found my convictions were no longer valid because they changed the book! There are plenty of shibboleths in the AP Stylebook—things that only AP adherents really care about but that cause consternation when AP makes a change. "More than" and "over" are now mostly interchangeable. The word "collide" no longer assumes that both things are in motion. These are minor things, but no one wants to be enforcing a usage guideline long after it's dead.
What do you associate with style guide proficiency?
Proficiency with using a style guide is a bit like proficiency with editing in general. We can't know everything, and we shouldn't tell ourselves otherwise. Proficiency with a style guide means knowing what we need to look up and sometimes even looking up things we know we are right about. Proficiency is a bit of a false concept. There are many guidelines, many exceptions, and many gray areas where we need to look elsewhere for guidance and ultimately apply common sense. It's possible to memorize most key points in a style guide, but our memories sometimes fail us, and guidelines do change.
_____
You can join in this conversation on July 24, at 7 pm eastern, when NAIWE will host a discussion some of the most important changes of 2019.
The Associated Press Stylebook, the essential guide to style and usage for news, PR, marketing, and corporate communication, is now updated for 2019 with its most substantive changes in years. NAIWE AP Stylebook Expert Mark Allen will discuss the important changes in a 90-minute webinar complete with humor and handouts.
The cost for NAIWE members is only $10! To register, send an email with your name and telephone number.
Mark Allen is an editor, writer, and teacher focused on helping people communicate with clarity and honesty. He has trained hundreds of editors and writers on a variety of topics, including the latest and most important elements in the Associated Press Stylebook and the Chicago Manual of Style. Mark has led conversations about copyediting and writing at conferences and workshops in Detroit, St. Louis, Las Vegas, New Orleans, Philadelphia, Portland, Columbus, Chicago, Pittsburgh, New York City, and York, England. He was the first freelancer elected to the executive board of ACES: The Society for Editing, and Mark currently teaches advanced copyediting for UC San Diego Extension's copyediting certificate program.