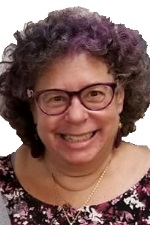 Today's podcast episode is a Member of the Month episode, where we get to know one of our fellow NAIWE members.
Our guest today is Ruth Thaler-Carter.
Ruth E. "I can write about anything!" Thaler-Carter, NAIWE's Networking Expert, provides writing, editing, proofreading, website critiques and updates, and presentations to publications, associations, businesses, not-for-profit organizations and individuals in diversity, decorative arts, cats, landscaping/gardening, education, facilities management, healthcare and wellness, communications, freelancing, business, law, public relations/marketing, and much more.
Thaler-Carter is the author/publisher of "Get Paid to Write! Getting Started as a Freelance Writer" and the short story "Sometimes You Save the Cat …" and co-author of the 2020 editions of "Freelancing 101: Launching Your Editorial Business" and "Resumés for Freelancers" for the Editorial Freelancers Association. She owns Communication Central, which co-hosts with NAIWE an annual conference for freelancers; A Flair for Writing, which helps aspiring authors get published; and the An American Editor blog.
Thaler-Carter has received awards for her writing and editing skills; contributions to the Rochester, NY-area literary community; and support of fellow freelancers. She is a popular presenter at conferences and in webinars about freelancing, websites, editing and proofreading, grammar, websites, working with associations, specializing vs. generalizing, networking, and other topics related to the world of writing, editing, proofreading and publishing.
Known as the "Queen of Networking," Thaler-Carter is active in the NAIWE, EFA, Cat Writers Association, Society of Professional Journalists, ACES: The Society for Editing, and several more.
Q: Please share a little of your professional history with our readers.
I did my first freelance writing back in high school, first by creating my own literary magazine after being turned down for the one published by the school and then by writing a column for a local community newspaper. In college at Indiana University-Bloomington and the University of Missouri-St. Louis, I wrote for the campus newspapers and typed and edited papers for other students, which expanded my skills in editing. I had several full-time jobs in communications before going freelance full-time and have never regretted that decision. Over the years, I've expanded my independent business from writing only to writing, editing, proofreading, website work, speaking, and conference host. I've also become known as the "Queen of Networking" through my active involvement in, and support for, professional associations.
Q: How and when did you make this business a reality?
I was freelancing on the side for several years while working in full-time, in-house communications jobs until I hit burnout with the day-to-day routine and went full-time freelance at the end of 1984. It was a reality from the jump, because I negotiated a contract with my job and set up two part-time gigs, so I started with a good flow of work and income.
Q: What's the most important lesson you've learned so far in your career?
Two things, actually: Diversify, and never give up!
Q: Are you working on any personal writing projects at this time?
I'm trying to be better about posting regularly to the An American Editor blog and playing with some fiction possibilities.
Q: Are you working on any special projects you'd like to tell us about?
Starting to plan the 2021 "Be a Better Freelancer®" conference!
Q: What are some of the teachers, books, or authors who have influenced your professional life in a positive way?
My parents, who brought me up to love reading and learning; my sixth-grade English teacher, who instilled never-forgotten and constantly used grammar skills in me; my 11th-grade "Critical Reading and Writing" and 12th-grade AP English teacher, who gave me confidence in my skills. I've been a voracious reader my whole life and couldn't begin to pinpoint any specific books or authors as influences.
Q: As a seasoned professional, what advice would you offer an independent writer or editor who is just beginning a career?
Learn something about the type of work you want to do as a freelancer, ideally by getting real experience; save money before you launch; identify what you need to earn so you can set your rates accordingly; network to learn from—and give back to—colleagues.
Q: What inspires you?
I'm inspired by the memory of my parents' and husband's pride in what I do; my parents, grandparents, aunt and uncle as Holocaust survivors; and how great it feels to do good work.
Q: How has your membership in NAIWE benefited you professionally?
Belonging to NAIWE has introduced me to new colleagues and brought a welcome partnership for my "Be a Better Freelancer"® conference.
Q: Is there anything else you'd like to share?
The beauty of being an independent writer and editor (etc.) is that I'm never bored by my work, am always meeting new people and learning new things, and have a life I enjoy. I wish colleagues the best of luck in all of your freelancing endeavors and hope you'll all participate in the "Be a Better Freelancer"® conference!