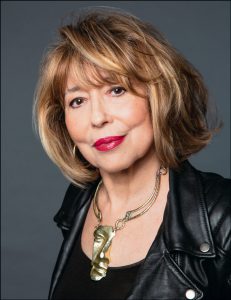 Today's podcast episode is a Member of the Month episode, where we get to know one of our fellow NAIWE members.
Our guest today is Claudia Riess.
Claudia Riess, a Vassar graduate, has worked in the editorial departments of The New Yorker and Holt, Rinehart and Winston and has edited several art monographs. Her earliest recollections of word-spinning are of her father, an English professor, telling stories at bedtime—funny stories about a little girl and her daddy going on riotous adventures. These were interspersed with lively readings of Winnie the Pooh and Mary Poppins. Other times the two would sit around the kitchen table and discuss Will and Ariel Durant's The Age of Reason.
Q: Please share a little of your professional history with our readers.
Before I began writing in earnest, I worked in the editorial departments of The New Yorker and Holt, Rinehart and Winston, and edited a number of art history monographs. And for a brief stint, I taught at the New York Institute for the Education of the Blind.  I wrote my first novel when I was in my mid-forties: Reclining Nude.  I'd categorize it as a psycho-sexual odyssey.  An experiment, really, to see if I could suspend my inner censor and write freely about a subject that I otherwise felt rather prudish about. The book was published by Stein and Day and subsequently by houses in the UK and Germany.  It was a boost in both my joy of writing and confidence, and yet the determination and discipline required to make writing an occupation remained latent for years.  When they finally awaked, I discovered that my earlier experiment had affected my writing ability more broadly than I'd expected.  I found that I was able to enter a fictional character's mind, whether it be that of a woman, a man, a cop, or a killer, without barriers or restraints.
Q: How and when did you make this business a reality?
After the debut-novel hiatus, I self-published Semblance of Guilt, a mystery, followed by Love and Other Hazards, a romance, and Stolen Light, an art suspense. Level Best Books picked up Stolen Light and re-released it in 2019, offering me a three-book contract to create an "art history mystery series."  I was off and running.  Last year, I signed another three-book contract to continue the series.  The fourth book, To Kingdom Come, was released May 31, 2022.
Q: What's the most important lesson you've learned so far in your career?
To be true to my core values, but open to criticism—including my own!  To be as objective as possible when going over a rough draft, and not be possessive of words or phrases or expository ramblings that either don't add to the story or detract from it. (It takes some bravery to be vulnerable.) To sit down at the computer even when the ideas are not percolating.  If I write a bit of dialogue, sometimes it gets the protangonists', as well as my own, juices flowing.
Q: Are you working on any personal writing projects at this time?
Yes, book five in the series.  Pivoting on Monet and his contemporaries, leading to present-day murders.  As ever, amateur sleuths, Erika Shawn, art magazine editor, and Harrison Wheatley, art history professor, are in the mix. Their burgeoning romance began in book one. They have since gotten married and now have a toddler son.  Although the couple's relationship continues to evolve (I'm an incurable romantic), each book stands on its own.
Q: Are you working on any special projects you'd like to tell us about?
Back in 2008, when I was the president of Friends of the Westhampton Free Library, I started a K-12 poetry contest for the schools in the library's community.  Even though I'm mostly in Manhattan now, I still try to keep up with the continuing project.
I'm also trying to do what I can to raise awareness in a subject that sparked the idea for To Kingdom Come: the return of art and artifacts looted from African during the colonial period.
Q: What are some of the teachers, books, or authors who have influenced your professional life in a positive way?
Authors that have influenced me indirectly, by inspiring me to hone my skills to the best of my ability: Umberto Eco, with his sheer brilliance, as in The Island of the Day Before.  David Mitchell, for his wildly creative and provocative ideas, as in The Bone Clocks. (BTW, a long passage in his Cloud Atlas, "The Ghastly Ordeal of Timothy Cavandish," is the most hilarious writing I've ever come across.) Anita Brookner, for her ability to describe the intricacies of the human spirit and the constraints of society. (Also her ability to write three-page sentences that make perfect sense.) Philip Roth, who cuts to heart of the matter—and to the soul—with seeming effortlessness, as in Everyman. It's not that I want in any way to emulate any of these diverse writers' styles.  It's just that they stir my desire to write. Much like when you hear beautiful music, you want to sing.
Q: As a seasoned professional, what advice would you offer an independent writer or editor who is just beginning a career?
If you love to write or helping writers perfect their work, never be discouraged.  The journey toward achievement is as valuable as its attainment, both for developing your sense of self and for the experience itself.  Don't be afraid to reach out for advice, contact a person or organization you imagine might not be forthcoming.  In a word: Network!
Q: What inspires you?
Passionate creativity in all areas—writing, art, music, dance.
Heroic or simple attempts at righting wrongs.
Morality without zealotry.
Q: How has your membership in NAIWE benefited you professionally?
Camaraderie—mostly virtual during the COVID-reclusive period—has been like a shot in the arm at times (no pun intended).  The members are very friendly and open, and it's nice to know like-minded individuals are always there to exchange ideas.  Publicity outlets which boost one's on-line presence are always available, too.