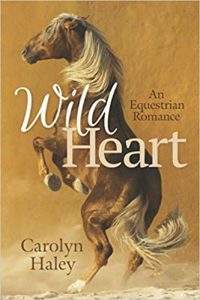 Wild Heart
Author: Carolyn Haley
Love and romance aren't for everyone. Linny Eagan thought she had found the love of her life, until she lost him, along with her job and her dream—all in one day.
With a dream of becoming an equestrian champion, but living in an unsupportive household, Linny is finally able to show off her equestrian skills to her parents. However, the day her parents come to watch a local event is the day Linny is in a life-altering accident, convincing her parents that horses are just too dangerous.
Shortly after the accident, Linny is sent off for the summer with her older sister to Cape Cod, Massachusetts, to avoid horses and to heal (physically and emotionally), while searching for a new dream, preferably without animals, but definitely on the ground, according to her parents.
The sisters' host for the summer, Connor Simon Winston, may dream of being an artist, but currently works at Galeson's stable, taming a wild mare, while waiting to inherit a fortune, and refusing to play professional football or work in the family business.
Though Connor and Linny have opposing dreams, their hearts connect. The two must choose to allow one to sacrifice a dream for the other, go their separate ways, or create a new dream that includes them both.
As a Feathered Quill Book Award winner, Wild Heart is written in the first person through the point of view of Linny Eagan. This allows the reader to feel Linny's gaps in memory and time. While writing in the first person can lead to a significant amount of telling in a story, the author, Carolyn Haley, has a good sense of the English language to bring the readers into the story. As a professional wordsmith, Haley quickly and easily captures the scenes through the use of the senses. Through Linny's eyes, the reader can see the surroundings, including the beach, the corral, and even Connor's physique. It is almost as if the reader is enveloped by Linny, as the reader can also feel Linny's body quiver, hands shake, and knees weaken.
The author skillfully uses Linny's injury to assist with transitions in time. For instance, the opening scene with Linny standing next to her sister and not remembering how she got there. Or Linny taking a nap in the afternoon and then sleeping until the next morning, missing dinner and the evening's activities.
We believe this book is a good read for those with a love of horses and the equestrian life. And because this book is a good reminder of the power of love and the benefits of having both dreams and someone to share them with.
Wild Heart is a well-written book with an excellent story about life, growth, and healing.