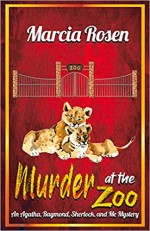 Marcia Rosen (aka M. Glenda Rosen) is the author of 10 books, including the Senior Sleuth Mystery Series and the Dying to be Beautiful Mystery Series. Once again, she delights her readers with Murder at the Zoo, the first in her new Agatha, Raymond, Sherlock, and Me Mystery Series, debuting in 2023.
Murder at the Zoo starts off with the thud of a dead body landing in the lion enclosure of the Albuquerque Zoo. Our main characters are called to the scene: the lovely Miranda Scott, Senior Veterinarian at the Zoo, and the tall and handsome Detective Bryan Anderson, who is assigned to the crime scene. Within hours, another body is found near the lion enclosure with a bullet in its chest. The pace of the action quickly accelerates and keeps on going throughout the novel.
The romantic attraction between our two main characters is evident from the start but new murders and other serious crimes multiply quickly, putting our couple both at odds with one another and in danger of becoming victims themselves. A colorful cast of other characters who are not what they seem keep getting in the way, including a potentially corrupt politician and a possible crooked cop.
We also learn that Miranda's family is more than dysfunctional. Raised by her gangster father and his friends and often used by her mother for her own personal gain, Miranda soon learns that her family is somehow involved in the chaos surrounding the zoo and the terrible events that have been unfolding are, in fact, personal. She becomes the target for revenge.
So where does the title of this new series come from? It turns out that, as a child, Miranda read dozens of mysteries by authors like Agatha Christie and Raymond Chandler and loved characters like Sherlock Holmes. Over the years, she heard their voices in her head telling her what she should and should not do. As she eventually explains to Detective Anderson, "Somehow some of my favorite authors and characters seem to talk to me. . . The voices, of course, are really my own thoughts or feelings about something but they often play around in my head as if they are these other voices." What these voices do for the reader, however, is to lighten the load as the murders pile up. Their distinct personalities provide humor in the midst of tragedy when they bicker amongst themselves, and guidance for Miranda as she tries to sort her way through her relationships with her family and the mysteries of her feelings for Bryan and the case which they are trying to solve together.
All in all, Murder at the Zoo is a great read and it's sure to satisfy Ms. Rosen's mystery fans. They'll be wanting more before this first book in the series ends!
Rosen's descriptions drew me into the story and made it an immersive experience. The narrative often pulled my focus to little details that hint to Miranda's past and made me want to know more about her. This was an exciting read, and I highly recommend this story, which begins with a murder at the zoo.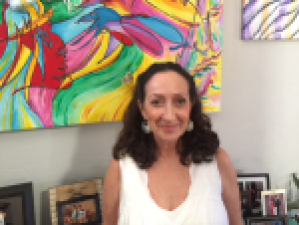 Leah Rubin is a copyeditor and proofreader who works under the business name of Your Second Pen. A native of Chicago, she and her family threw away the shovels and the snowblower and moved to Arizona in 1999. With a degree in English and Speech Arts from Hofstra University, and a background in teaching (both in the U.S. and South Korea as a Peace Corps Volunteer), Leah worked in various administrative capacities while raising her family. Always the English expert, whether working in the office or managing a pottery gallery in Sedona, Leah followed her dream to start her own business when she and her husband relocated to Tucson in 2017. Armed with multiple classes in professional development and a new computer, the idea of Your Second Pen was born and has been blossoming ever since. While she doesn't believe in having a "niche", Leah has worked for several authors in the categories of memoir, biography, mystery, science fiction, spirituality, self-help, adventure, and business, as well. She enjoys working with first-time authors or seasoned writers. She prides herself on her professionalism, patience, perseverance, and the desire to work with an author to produce the best possible version of their written material. Whether a lengthy novel or a simple business letter, each project is equally important to her. Leah is a member of the National Association of Independent Writers and Editors, the Professional Editors Network, and an active member of the Tucson Chapter of the Editorial Freelancers Association.