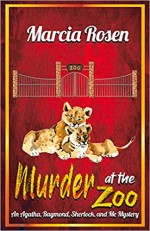 Mystery writer Marcia Rosen knows that the most powerful lines of William Shakespeare's Tempest:
O wonder!
How many goodly creatures are there here!
How beauteous mankind is! O brave new world,
That has such people in't
tell only half our human story[1].
Indeed, the opening lines of Murder offer readers into a man-made dystopia: From the lion's den at the Albuquerque Zoo, a human arm, chewed off from its shoulder, beckons to the public.
Rosen's sleuth, Dr. Miranda Scott, is tasked with solving this murder—but she faces five challenges. First, she hears voices in her head, each in its own trademark manner:
"Agatha, even for a dame, you talk too damn much."
"Raymond, my dear, you've used that line too many times. I fear it is a bit uncouth."
Sherlock snapped, "Will you both be quiet so I can consider the evidence?"
The snark and wisdom of Raymond Chandler, Agatha Christie, and Sherlock Holmes persist as the pile of bodies at the zoo increases. And Miranda finds time to serve her day shift as its senior veterinarian.
Second, Miranda copes with an unusual set of divorced parents. Her mother Lillian, who lives on a ranch near Taos, is a grifter forever pushing Miranda around. Miranda's father Jacob, whom she lived with following the divorce, holds close to the vest his relationship with a certain criminal syndicate. Miranda's appetite for detection was nourished by a steady supply of mystery and gangster novels and their cinematic adaptations, thanks to her godfather Joseph.
Third, Miranda faces corruption on the part of the local government. Readers will recognize the shameless egoism of Senator Matthew Graham and company.
Fourth, there is corruption on the part of the zoo staff, though Miranda may be too busy and too close to see.
Finally, Miranda entertains distraction from her duties, exchanging thrusts in an extended romantic exchange with a certain Bryan.
"Mystery lovers will enjoy Rosen's nods to films and novels both old and new, making use of important tropes popularized by Raymond Chandler, Agatha Christie, and even Edgar Allan Poe. Rosen's dialogue and narration—"I have to go. Have to see a lion about a man"—offer a gentler version of Chandler's nonstop talking wise.
Murder at the Zoo is heartily recommended for vacation reading.
[1] The Tempest, V.1.182–5. These lines are spoken as a royal marriage comes together. The exile of Miranda, with her father Prospero, Duke of Milan, is coming to an end thanks to Miranda's alliance to Ferdinand, the King of Naples' son.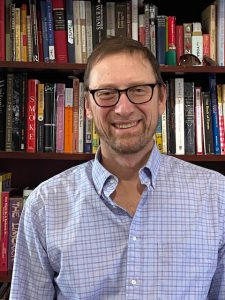 Since 1986, Jon Hartmann has reviewed books, films, and performances for academic, professional, and general audiences. Jon teaches Technical and Business Communication at The University of Texas at Dallas, and he copyedits government reports on food security in places like Haiti and East Africa.  Hartmann wrote The Marketing of Edgar Allan Poe (Routledge, 2008) and has published pieces on filmmaker Melvin Van Peebles. Jon recommends his latest paper, published in Who Makes the Franchise (McFarland, 2022, edited by Rhonda Knight and Donald Quist), titled "You Always Spoof the One You Love: Thirty Years of Professional ­Take-Offs on The Muppet Show."