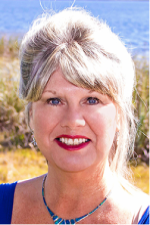 We wanted to get to know Suzanne Lynn Cheesman (NAIWE's Media Interviews Expert) better, so last month we sat down with her. Here are some thoughts she shared with us.
When the writing of a book is complete, should the author focus immediately change to marketing?
We recommend that authors begin thinking about their marketing strategy around eight months before they actually plan to release it to the public. Having a loyal following ahead of the release is crucial to kicking off a book launch with momentum.
Why do you support video as the answer to getting a book out there?
Nothing shares the heart behind the book like an author talking about it in a raw and vulnerable manner on video. Since communication is 93% nonverbal, seeing the author's emotions and facial expressions help us feel connected, which helps us find common ground. When authors can make someone see themselves in their story telling, they have just made the most powerful connection possible!
Is there any evidence to support that video is a secret weapon to selling more books?
There is an unlimited amount of information to support video marketing for businesses. An author trying to sell books is a business. Here are some places to see proof of the importance of adding video to an author's marketing and business strategy. People will buy books and other goods from people they know, like and trust.
Ingram Spark Article shows that it's a great way to get personal with your followers and make them feel more connected to you. "Videos make it easier to close the gap between social media followers and loyal readers."
Forbes Article states that it improves SEO because it ranks high on social media news feeds and can improve your search engine optimization.
HubSpot Article says "There's no strategy like video marketing for educating, generating leads and converting customers."
——————
You can join in this conversation on August 10, at 7:00 pm eastern, when NAIWE will host a discussion on using video in marketing your books. The cost for NAIWE members is only $10! Nonmembers can join for $30. Register today!